HOW TO TREAT YOUR LEATHER FLAME BAGS & ACCESSOIRES
To keep your product beautiful as the years pass.
All FLAMES leather bags & accessoires are handcrafted in our own atelier in Eindhoven/ The Netherlands. Limited production items are made of a small batch of dead-stock leathers, carefully selected from factories around Europe. Which results in a limited range of each creation. Each Leather skin is unique, so color differences or vein marks may appear and are natural features. This adds to the charm of this leather luxury item.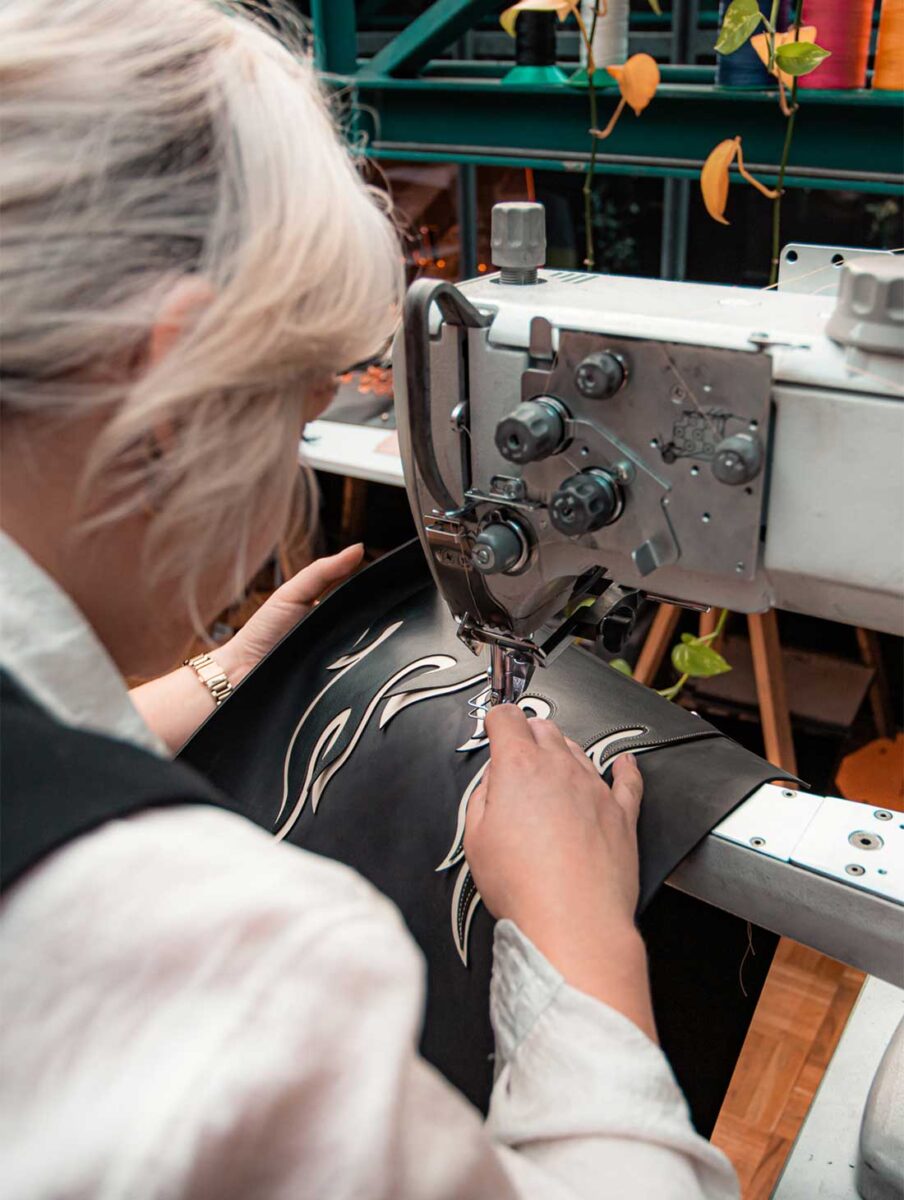 LEATHER CARE INSTRUCTIONS
Leather is a popular material for luxury items due to its durability, natural beauty, and ability to develop a rich patina over time. Even though our leather bags and accessoires are very durable, extra care should be taken to keep your Flame in perfect condition:
Keep your Flame away from damp or humid environments and avoid direct exposure to sunlight, keep your Flame away from any direct source of heat like radiators, car interiors overheated by the sun or near a window where it can be exposes to direct sunlight.
Avoid all contacts with liquids and rain, cremes or hand lotions: Leather can be damaged by water, so it's important to keep your bag dry. If your bag gets wet, wipe it off with a lint free, light-colored, absorbent cloth and let it air dry away from direct heat sources. Never use soap or solvent.
Avoid contact with liquid substances, cosmetics, perfume and hydro alcoholic solutions, as well as any material (colored garments, permanent dyes, etc.) that may transfer their colored pigments onto the Flame item. Use a leather cleaner: Leather cleaners are specifically designed to remove stains and dirt from leather. Apply a small amount of cleaner to the stained area and gently rub with a soft cloth. Be sure to follow the manufacturer's instructions carefully. Seek professional help: If the stain is particularly stubborn or you're worried about damaging the leather, it's best to seek the help of a professional leather cleaner or repair specialist.
Use leather protection spray, it leaves a protective layer to help protect your Flame from water damage, stains, and other types of damage.
Choose the right spray: There are many different types of leather protection sprays available, so it's important to choose one that is appropriate for the type of leather you're treating. Look for a spray that is specifically designed for the type of leather you have, such as suede, nubuck, or smooth leather.
Apply the spray: Hold the spray bottle about 6 inches away from the leather and spray a thin, even coat over the entire surface of the item. Be sure to cover all areas, including seams and edges. Allow the spray to dry completely before using the item.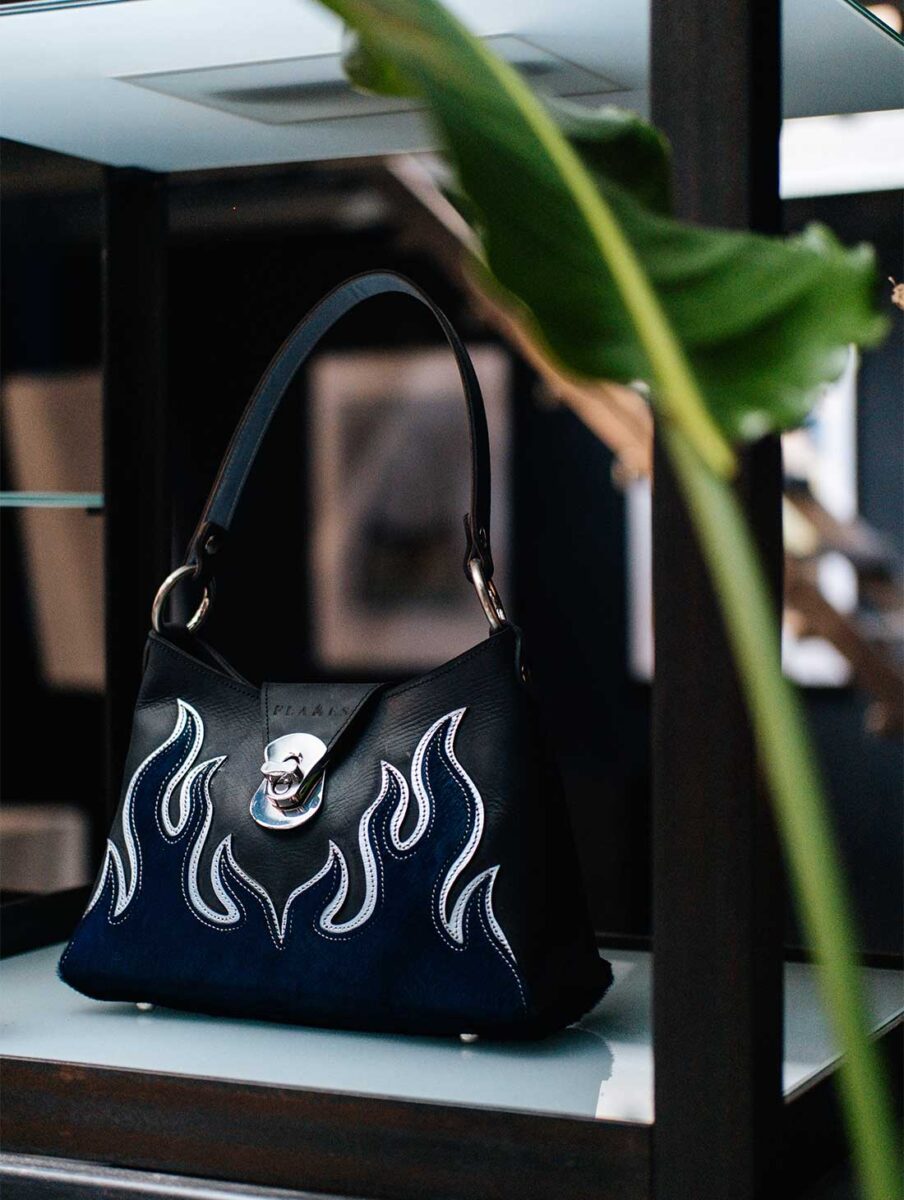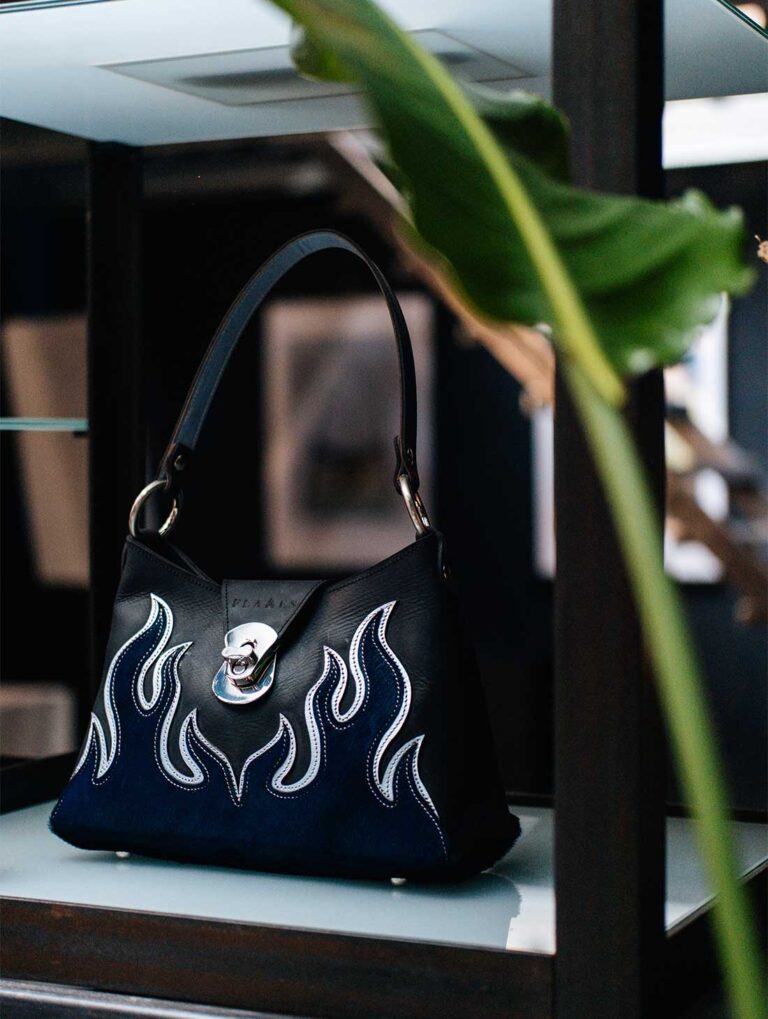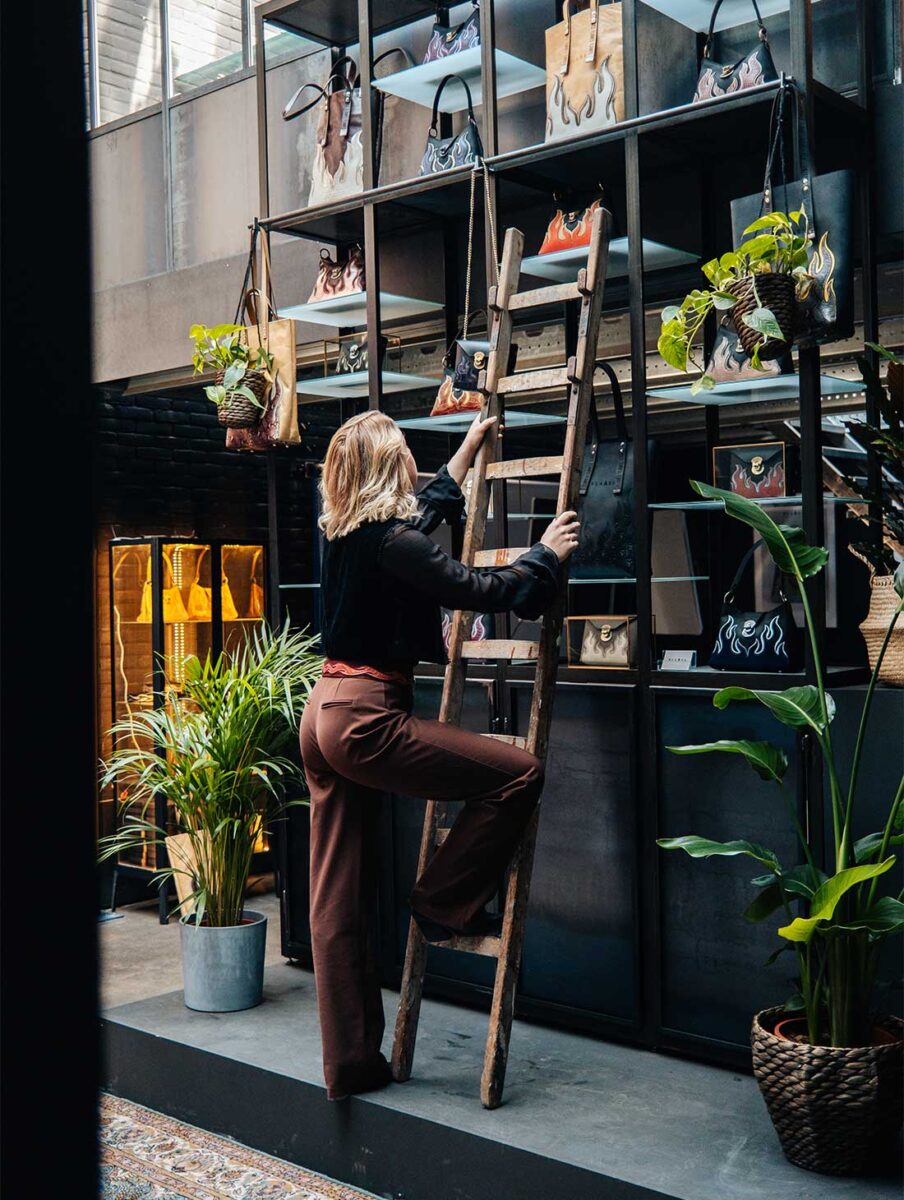 Condition the leather: Leather can dry out over time, which can cause it to crack or fade. To prevent this, apply a leather conditioner/ wax to your Flame every few months. This will help keep the leather supple and moisturized.
Washing a denim bag by hand is a great way to keep it clean without risking damage to the fabric or any hardware or embellishments. Avoid using hot water, as this can cause the denim to shrink or fade. Use a gentle, mild detergent that is suitable for delicate fabrics. Avoid using bleach or harsh chemicals, as these can damage the denim. Scrub gently, use a soft-bristled brush or sponge to gently scrub any dirty or stained areas of the bag. Avoid scrubbing too hard, as this can damage the fabric.
The fabric used in this garment is dyed with indigo. Color may transfer due to the indigo dye process. Avoid any contact with lighter materials and surfaces. Dark colors will fade slightly over time due to wearing.
Handle with care | FLAMES is not liable for defects and / or damages caused by wear and tear. Avoid contact with grease, mud, dirt, rough surfaces and rain
Avoid overfilling your bag to maintain its original silhouette. Beware not to scratch or rub your Flame against abrasive surfaces.
All our leather products are crafted from full-grain leather and has a special finish that may result in some color transfer. Extra care should be taken when worn against light colored garments.
Please keep your bag away from intense sunlight, water, heat and permanent dyes.
For any enquiries about your product, please do not hesitate to contact us. info@flamesthebrand.com